In keeping with our commitment to comprehensive security at IBM, we will be launching Multi-factor Authentication (MFA) for all authorized users of IBM Planning Analytics on Cloud in Q1 2023. You can expect an update at least 2 weeks in advance of our implementation. In anticipation of this initiative, we wanted to cover some of the expected workflows around authentication.
MFA (sometimes referred to as two-factor authentication) involves security measures that prohibits a user from logging into an application or website without providing two or more pieces of evidence regarding their identity. Common pieces of evidence include a PIN (Personal Identification Number), an authenticator application, cellular text, and even facial recognition.
How does MFA affect my product experience?
Logging into Planning Analytics Workspace, Planning Analytics for Excel and TM1 Architect with IBMid (non-federated users):
If you are using IBMid for authentication, you will first see the normal login screen: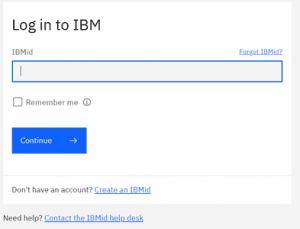 2. You will then be prompted with a new screen to set up additional evidence for login. The three available options are Email, the IBM Verify App and an Authenticator App. Select the applicable choice(s) and proceed to set up.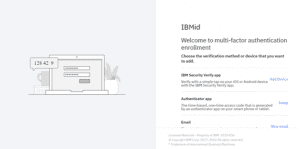 3. Once set up, you will be requested to provide this evidence on future logins.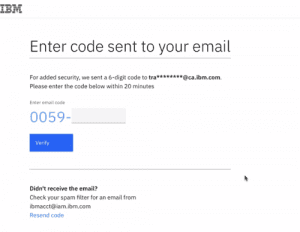 4. Once authenticated you will be re-directed to the appropriate Planning analytics with Watson component.
Example 1: Logging in though TM1 Architect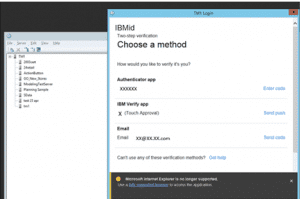 Example 2: Logging in though Planning Analytics for Excel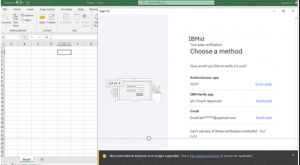 Logging into Planning Analytics Workspace, Planning Analytics for Excel and TM1 Architect with IBMid (federated users):
In a custom sign-on solution (ex: federation with your IDP), the first screen you will see upon login will be specific to the authentication technology deployed in your organization.
Setting up Multi-factor Authentication is not required with a federated login to Planning Analytics on Cloud but may be configured through your federated authentication solution.
Go to your Planning Analytics login URL using a supported browser
Login to your authentication provider
Provide MFA evidence (optional)
Enter Planning Analytics on Cloud
How do I get support if I'm having issues?
For more information, please contact Budgeting Solutions support at: